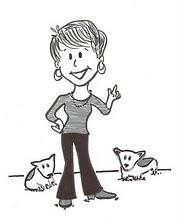 BroadZview Cartoons:  Online gag cartoon focusing on work, life, family, pets, politics and more – From this broad's perspective.
Editorial Cartoons:  Devon Wickens is a news junkie. First thing in the morning she checks what's trending. From there an editorial cartoon is created.
Cartoon Life
Devon's cartoons are featured by Editorial & Political Cartoons on Facebook, HuffPost/50, AARP and other online & print publications. For many years she did a weekly feature cartoon for Gannett.
About Devon
Devon Wickens is a cartoonist whose work has appeared in newspapers, magazines and greeting cards. In addition to her lifelong cartoon work, Devon is a professional comedy writer for top comedians and fellow cartoonists. She has also logged time as a radio producer & talk show host. Her daily drive-time radio show featured celebrities, New York Times best-selling authors, politicians and industry movers and shakers. Rounding out her career, Devon spent many years as an executive speechwriter and corporate cartoonist.